︎

My work aims to challenge and expand the ways that geopolitical events are presented and documented. My background as an abstract painter informs my practice, resulting in multidimensional projects that use images, found objects, interviews and video. The immersive experiences I seek to provide for my audience intends to generate a more honest understanding of "the other" while also questioning the contemporary conundrum of image saturation.

I began photographing in 2015 after relocating to Turkey where I became intent on intervening within the images that have formed the dialogue around the Middle East. I moved to Iraq in 2017 and have since been documenting the environment surrounding conflict.

In 2018 I participated in Joop Swart Masterclass and Eddie Adams and worked with National Geographic, Wall St Journal, Washington Post, and Le Monde among others. With support of the British Embassy, I had a solo exhibition, "Roads to Mosul" at the Oxo Tower to raise funds for reconstruction of Mosul.




︎
ACADEMIC ACHIEVEMENTS & HONORS 


Joop Swart Masterclass: Joop Swart Masterclass is the World Press Photo Foundation's flagship education program. It rewards the 12 of most talented emerging visual journalists and is designed to support and enhance diversity in visual journalism and storytelling.
PDN 30 Under 30: Nominated for the 2017 top 30 under 30 emerging photographers from around the world. Lensculture 35 Photographers to Watch: 1 of 35 photographers chosen from around the world to watch. 

Eddie Adams XXX: 1 of 100 students selected to take part in a workshop hosted by the worlds top photojournalists.
Edwing Ewing Scholarship: Award for excellence in painting and drawing.
Discovery Scholar Award Recipient: Honors academics who excel in the classroom while demonstrating the ability to create exceptional new scholarship or artistic works.
2014 Roski Outstanding BFA Graduate Award: Given to one student from the graduating class chosen by the faculty.
The National Society of Collegiate Scholars: An honors organization that recognizes and elevates high achievers cultivating connections, leadership and service.




SELECTED EXHIBITIONS & PUBLICATIONS

Solo
Road to Mosul- Oxo Tower; London & Baghdad, 2018
Textured to Only Us- Old Bank District; Los Angeles, USA, 2015
Tomorrow It Will Rain- The Chapel Gallery; Los Angeles, USA, 2014
Gravel Roads to Rimrock- Helen Lindhurst Gallery; Los Angeles, USA, 2014

Group
I-ΣMIGRAZIONI- Palazzo Ducale, Photo Lux Festival; Napoli, Italy, 2017
Where I Lay My Head- Hillvale Gallerym Melbourne; Australia, 2017
Not Seeing Anything- Alt Gallery; Istanbul, Turkey, 2016
the ways we stand by- Protocinema 5533; Istanbul, Turkey, 2015
Pathos Riot- Night Gallery; Los Angeles, USA, 2014
Tiger- Grice Bench Gallery; Los Angeles, USA, 2013

Publications and Clients
National Geographic, HyperAllergic, New York Times, Wall Street Journal, The Sunday Times, Le Monde, The Atlantic, Visa Paper, Lensculture, PDN, Open Society Foundations, The Telegraph, Newsweek, de Volkskrant, The Daily Beast, ,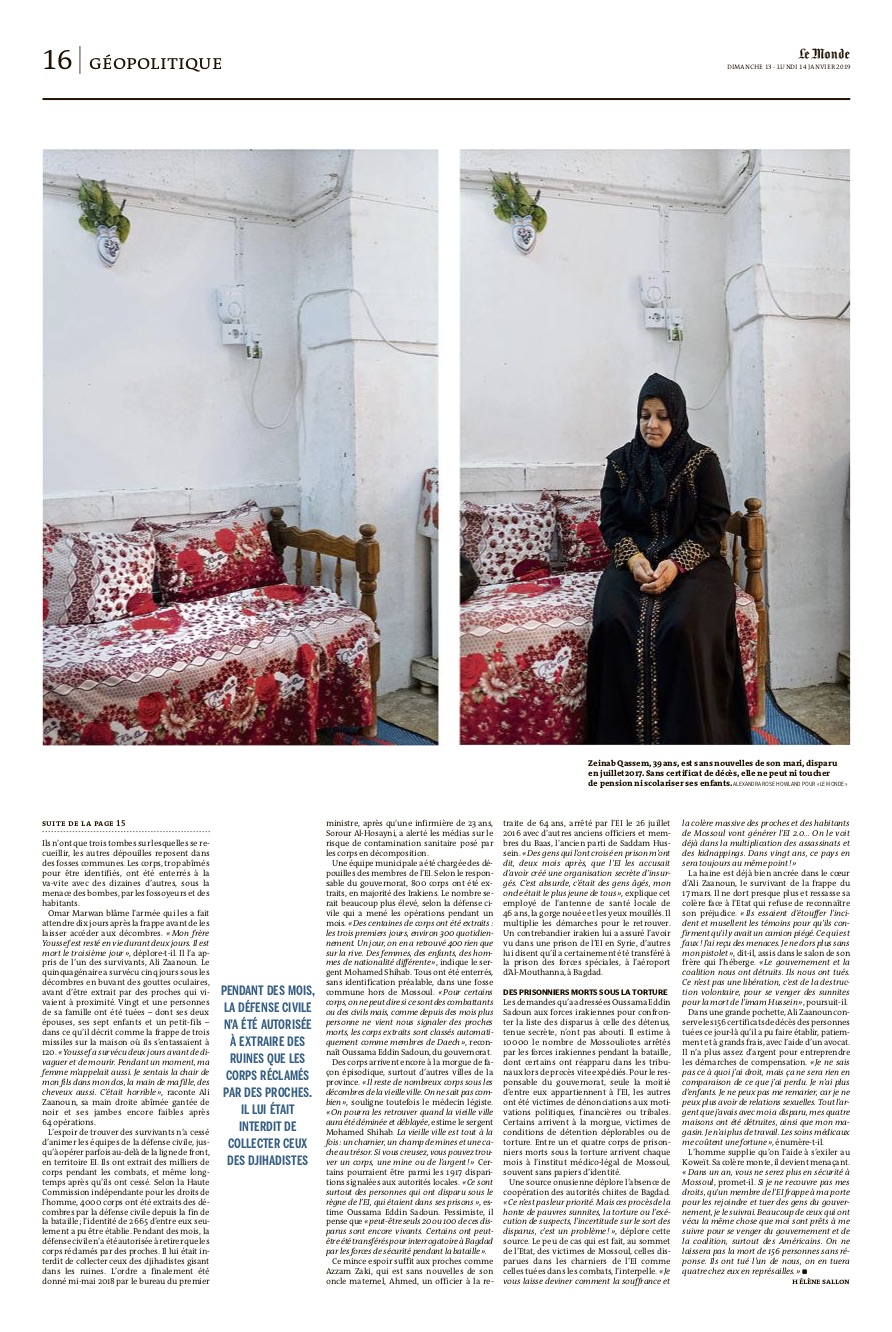 It is not sufficient to have beautiful thoughts while the barbarians rage on.
Most prints for sale.
Email for inquiry.